Korpiahon Hunaja – honey products from finland
Korpiahon Hunaja Ltd is the largest processed honey products manufacturing company in Finland. We are located in Eastern Finland, the city of Nilsiä where you can also find Tahko skiing resort. Surrounded by unpolluted nature and wilderness, pure Finnish honey is the basis for all our products. Besides natural honey we offer a wide range of other honey products: food products (including flavoured honey, honey caramels, honey mustard), sauna and bath products (including sauna honey, steam aromas, skin and hair care products) and beeswax candles.
We focus on manufacturing and developing new products for the market – Korpiahon Hunaja Ltd does not operate as a retailer, except for our web store in Finland. A significant part of our operations is to manufacture products for private labels. We have a numerous amount of satisfied customers who sell our products with their own label. We are able to tailor our products and their appearance to our customers' needs.
Step into the world of honey and explore our sweet products!
Quality of Honey
We are very careful when it comes to the quality of our honey. We are sure to follow EU standards and also the Finnish "Joutsenlippu"-standard, which has even tighter regulations. Our company operates under ISO 9002 quality system. We also demand high quality and environmental responsibility from our suppliers.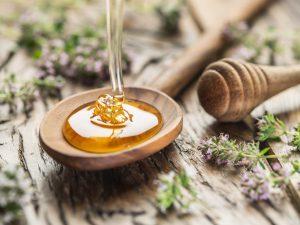 Since 1993
Our company was founded in 1993 and has been growing steadily during the years. At the moment we employ five persons plus 1-4 seasonal workers. We nurture over 300 beehives ourselves. We have also created a network of beekeepers in our own area whose honey is processed and marketed by Korpiaho. In addition we buy honey from other Finnish beekeepers. Currently we produce 50 000 kg of honey per year – and the amount is rapidly growing.